Pet Wash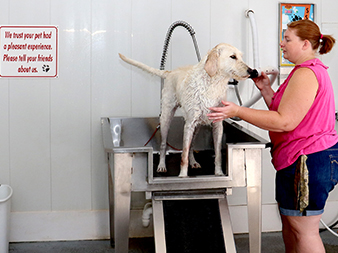 After being completely renovated in 2015, the pet wash is now open for business! Cleaning your pet indoors, out of the elements, and free from distractions is something that can make life much easier for a pet owner.
Your dog can easily climb the ramp into the stainless tub. From there, you can clip your dog to a tether, put money in the wash, select your treatment, and go. We provide many different treatment options including:
Tearless shampoo
Oatmeal treatment shampoo
Fresh water rinse
Cream rinse conditioner
De-skunk odor
Flea & tick treatment
Disinfecting tub
Blow dry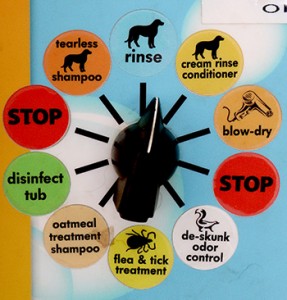 At the Classic Car Wash in Rapid City, pets are always welcome. We have plenty of parking behind the building so even if the car washes are busy, you will always have room to park.
We have change machines or token machines and the pet wash accepts coins, tokens, dollar bills, or five dollar bills. Open 24 hours a day, any time night or day, bring your pet in for a cleaning.
We have de-skunk odor solution so if your animal happens to be the unlucky one that tangled with a skunk and lost, bring it on over and you can clean it right up.